The Castile-La Mancha teacher training centre
Semantic and social platform for managing Castile-La Mancha educator in-service training
More than 42,000 professors needed centralised, interlinked content and management for their distance training. Thus, a platform was born to house the 11,00 training activities (about 2,700 each year) and share 50,000 resources. View the project
The Castile-La Mancha Council on Education, Culture and Sport designs and enacts the region's policies on education, culture, sport, youth, scientific research, technological development and innovation.
End-to-end process management
This platform for comprehensive education management facilitates the online training of 42,000 teachers across Castile-La Mancha, Spain. It spans the configuration of the annual formation plan and its multiple calls, to the final teacher accreditation process, including the full formation process (enrolment, atlas, progress throughout the course, student support, incident management, student management, assessment, etc.).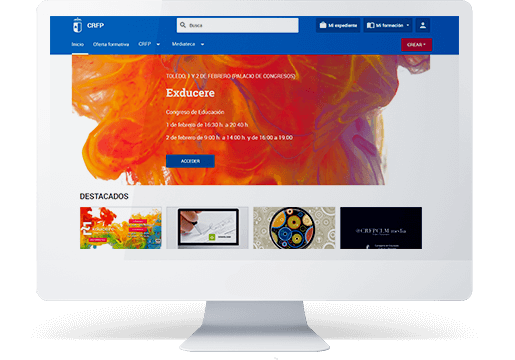 A learning ecosystem at the service of the teacher
The platform has been integrated with the teacher registry system (single sign-on, active directory), as well as a certification and accreditation system for teaching staff learning. Likewise, virtual classrooms for language learning have been incorporated, as well as a complete support system developed for online help in the event of incidents reported by users. Teachers enjoy a unique environment for their training processes.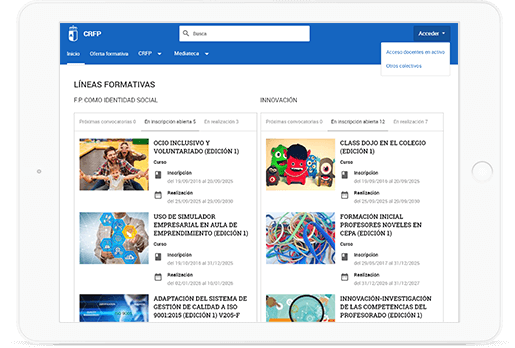 Data for improved education
Platform management encompasses the annual formation plan for teachers. The entire range of classes and courses was enabled using advanced Social LMS. The semantic platform includes a toolkit for all queries of existing data. This supports management improvement and fosters greater understanding of what is taking place during each of the calls to improve decision-making.