Deusto Knowledge Hub
The University in its contexts: Deusto Knowledge Hub, a unified querying system for access to all university information
Deusto has integrated the information available in its multiple repositories and information management systems by creating a semantic layer. This layer links and transmits existing data on research and teaching, in addition to institutional information, to form a unified Knowledge Graph. One of its first exploitations was the generation of a single point of access for all information. View the project
The University of Deusto is a private university founded by the Society of Jesus in 1886. It has two campuses in Spain, one in Bilbao and the other in San Sebastián, in addition to facilities in Madrid. 15,000 students attend the institution.
Metasearch engine and faceted search engines: where a search turns into a journey of learning
Deusto Knowledge Hub (DKH) makes it possible for users to easily access all University of Deusto information (for teaching and research as well as institutional information) in a practical, user-friendly way through a single point of access. From the first search, faceted search engines are deployed to guide the user throughout the process. These engines employ reasoning logic that helps them find the most precise information in the least possible time.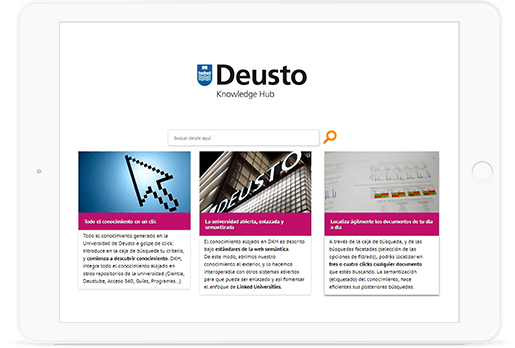 Smart Data University
Deusto chose GNOSS for its ability to connect diverse data sources without being invasive or intrusive, because it can generate a layer "on top of" the semantically represented data. GNOSS composed a unique, expressive, extensible and searchable Knowledge Graph that approaches questions in an agile, flexible and gradual way without interruptions in service.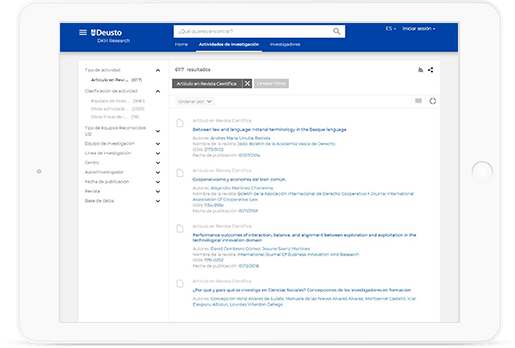 Semantic Business Intelligence
The establishment of a Knowledge Graph made it evident that all possible consultations exist in the Graph, so there is no need for pre-administration. The administrator can query the graph in the most convenient way for them. For example: "I want doctoral theses, in Philosophy, from the San Sebastián campus during the last 5 years". The information can be visualised for a quick, accurate interpretation.