company
More than a decade constructing the Semantic Web
Company
GNOSS (RIAM INTELEARNING LAB S.L.) is the Spanish leader in Semantic Web construction. Our tech company uses semantic technology to build and exploit Knowledge Graphs. We offer a Semantic Platform that can be personalised and adapted to the client's needs as a set of technological services on pre-existing platforms
The GNOSS team
Our company is a team composed of multi-disciplinary professionals with more than 10 years of experience in the construction of the Semantic Web and the use of its technology and tools in Spain, incorporating a strong research and development component. We are a high-performance team with abounding professional curiosity.
History
More than a decade spent building the Semantic Web. RIAM I+L Lab is the leading Spanish company in Semantic Web construction. We have carried out and completed projects for the country's national institutions and leading companies. In 2011, we were the first Spanish company to join the Linked Open Data Cloud.
Exemplary projects including those carried out for BBVA, Triodos Bank, Grupo Santillana, the Prado Museum, the University of Deusto, the Spanish Ministry of Education and Ministry for Finances and Public Administrations, and the Government of the Basque Country Autonomous Community in Spain attest to our professional track record.
History
trip_originTecnology
trip_originProduct
trip_originStrategic landmark
April 2004
Integrated organization engineering system
Identity Architecture (federated and multilevel) that facilitates interaction between the different social work spaces and organizational identity relationship on the platform and allows build and develop personal work and learning spaces (2004-2005)
June 2008
Semantic meta-server
Construction of a semantic metaserver for GNOSS Client and a service for the Server applications and data (2005-2008)
May 2009
Semantic interoperability space
Developing a Semantic Interoperability Space Using Resource Data Models Description Framework (RDF) and Web Ontology Language (OWL), the optimal framework to improve the interaction of systems and platforms (2007-2009)
February 2010
Launch of GNOSS
The first version of the GNOSS social and semantic platform is made public on the Web
February 2010
Data binding
GNOSS data is linked to Freebase, DBPedia, and New York Times, making the concept of Linked Data
February 2011
Semantic Search Engine
Putting the search engine into production for the exploitation of semantic graphs. A faceted search engine that emulates human reasoning with summarization, search refinement, and autocomplete (2009-2011)
February 2011
Graph DB
GNOSS starts the computation of graphs in RDF databases
June 2011
Scalable and highly available GNOSS architecture
The GNOSS architecture is deployed in high availability and in a scalable way
September 2011
GNOSS on the Linked Open Data Cloud
GNOSS is the first Spanish company to appear in the Linked Open Data Cloud, an essential part of the concept of the Semantic Web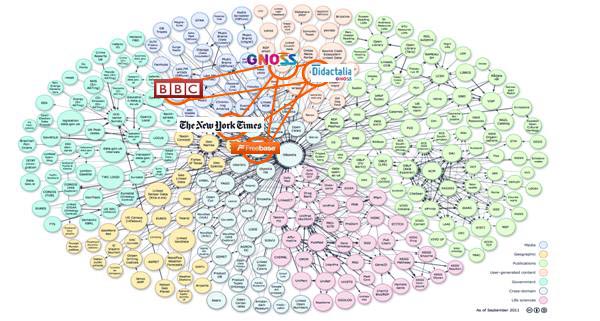 January 2012
Cloud Infrastructure
Development and implementation of a Cloud infrastructure that allows scaling the GNOSS platform
April 2012
Semantic Content Manager (SEM-CMS)
GNOSS develops its Manager of Semantic Contents (SEM –CMS) : the semantic representation of the contents and components of the CMS allows better exploitations of these
June 2012
API of GNOSS
Production of the first versions of the GNOSS API, which makes it possible to integrate the platform with third-party applications and developments
October 2012
GNOSS in the Semantic Technology and Business Conference
GNOSS sponsors the Semantic Technology and Business Conference in New York where it also participates and presents the platform
January 2013
System of Generation of Contexts and enriched information
GNOSS offers a superior reasoning and knowledge discovery experience based on the implementation of the contextualization and personalization processes of the information (2011-2013)
June 2013
Semantic Framework for Developers (SFD)
Launch of the platform of semantic development that enables the deployment by third parties of configurations and GNOSS customizations
June 2015
Tailor-made workflows
GNOSS develops the tools to manage flows of work , states and responsible for the Knowledge Graph
January 2016
API v3: Integration Improvement
The third version of the GNOSS API includes a REST interface that improves integration with other systems
January 2017
GNOSS Orchestra
Development of GNOSS Orchestra, a BASE system that allows heterogeneous data synchronization
June 2018
Sherlock NERD-NLU
Cognitive Intelligence Tool for natural language processing, automatic generation of knowledge graphs and interrogation systems, knowledge discovery, analysis and recommendation based on entity recognition and linking
Innovación
En GNOSS estamos comprometidos con un modelo de desarrollo abierto y con ofrecer una plataforma capaz de operar con cualquier base de datos de Grafos RDF para conseguir tecnologías mejores y más seguras. Estas soluciones cumplen con un conjunto de estándares de la web semántica y en particular del lenguaje de consulta SPARQL. Además, hemos creado además dos implementaciones para dos bases de datos de grafos distintas que demuestran su potencia y funcionamiento.
El proyecto de I+D para la Construcción de un Framework capaz de operar con cualquier base de datos de Grafos RDF para la plataforma de desarrollo GNOSS Semantic AI Platform (Expediente 2020/0720/00096704), ha sido beneficiario de la convocatoria de ayudas para el Desarrollo tecnológico basado en inteligencia artificial y otras tecnologías habilitadoras digitales, C007/20-ED, convocada por la entidad pública empresarial Red.es, adscrita al Ministerio de Asuntos Económicos y Transformación Digital, a través de la Secretaría de Estado de Digitalización e Inteligencia Artificial, y está cofinanciado con fondos europeos.
Innovación