Comillas Knowledge Hub
Comillas Knowledge Hub: the unified search engine for the Comillas Pontifical University repository for teaching and research
Comillas avails of 9,000 resources linked to teaching and research. To facilitate agile and efficient access to this knowledge, GNOSS composed a Graph that integrates and interlinks them across a semantic layer. One of its primary exploitations is the generation of a single point of access to all of this information. View the project
Comillas Pontifical University is a private Catholic university directed by the Society of Jesus. It was founded in 1890 and its student population now exceeds 9,300 with campuses in Madrid, Cantoblanco and Ciempozuelos, Spain.
Simple, practical, user-friendly access
The goal of this project was to integrate, consolidate and exploit the published information on teaching and research (pedagogical materials and guides, final projects and masters' theses, journal articles, books, etc.) in a unified Knowledge Graph and to generate a single point of access for all of this information.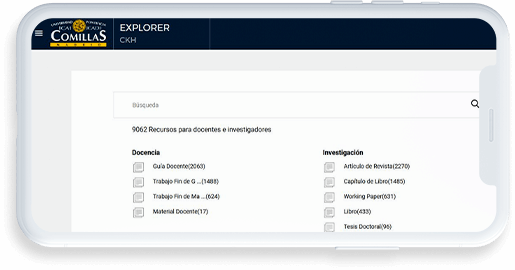 Learn more, faster
All Comillas Pontifical University research and academic knowledge is linked and made accessible. Personnel save time they would spend searching for and accessing documents, plus they receive recommendations related to the content viewed.