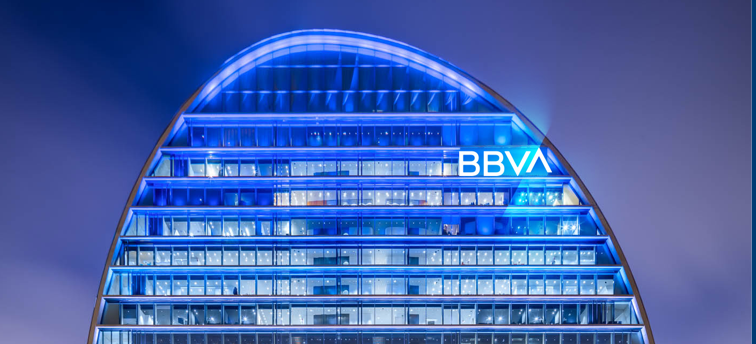 The BBVA Research search engine
A single point of access to all the economic analyzes of BBVA Research
GNOSS has developed the questioning system for BBVA's macroeconomic analysis area, a search engine built on a large knowledge graph that integrates all the information generated by BBVA Research and that offers enriched and contextualized content from a single access point.
Banco Bilbao Vizcaya Argentaria (BBVA) is Spain's second largest banking institution by assets: 731,856 million euros (2016). Present in 35 countries, it boasts more than 70 million clients.
Structured and enriched data to exploit the knowledge contained in BBVA Research

The BBVA Researh search engine integrates all the information offered by this strategic area of ​​information and economic analysis into a large knowledge graph, allows it to be represented semantically and made available to the user in a functional and intuitive way.
Thanks to the integration of all the information in a single semantic layer, we can interrogate and extract useful knowledge from the data set and strategic analysis of this service based on our field of interest. In addition, the information is enriched thanks to the context generation system, offering additional data on the entities collected in the questioned information, as well as related content.

All of this is possible thanks to the BBVA Research knowledge graph, built with GNOSS technology, which allows all the accumulated information to be linked in an intelligent and updated way in real time, detecting which content is relevant and which entities are related to each other and being able to exploit all this information thanks to the information retrieval system with predictive search developed by GNOSS. SEE PROJECT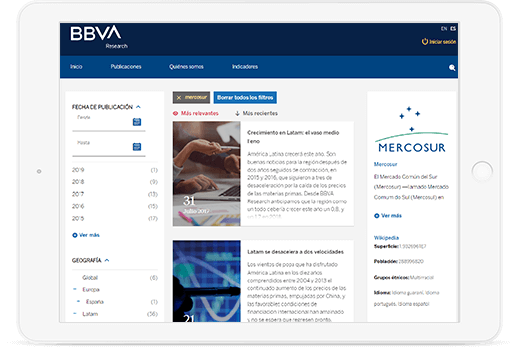 You may be interested in...