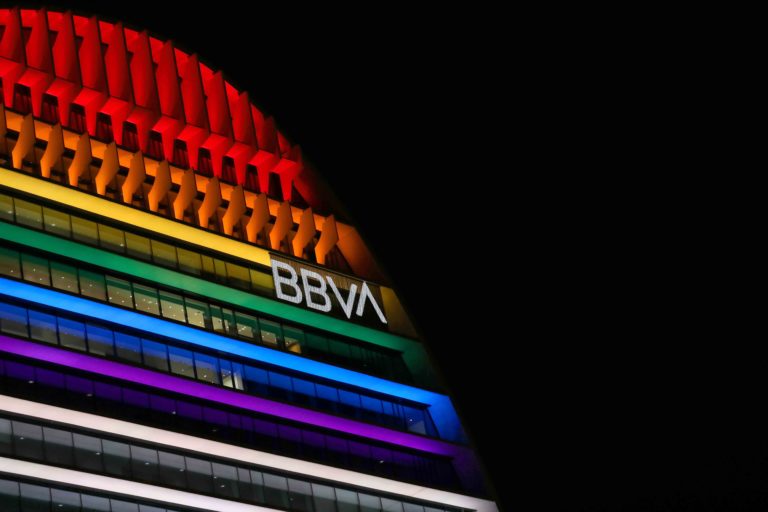 Smart Search Engine for BBVA's Digital Ecosystem
BBVA search tool: Specific answers for every question
During the BBVA.com search engine project, GNOSS developed an information retrieval system, making searches much more convenient, straightforward and practical. The search engine is just one appreciable exploitation of the BBVA Knowledge Graph. View the project
Banco Bilbao Vizcaya Argentaria (BBVA) is Spain's second largest banking institution by assets: 731,856 million euros (2016). Present in 35 countries, it boasts more than 70 million clients.
The BBVA Knowledge Graph makes it possible to quickly provide precise and relevant answers to any question.
The information box appearing on the right hand of the results page gives you specific information about just the thing you are looking for.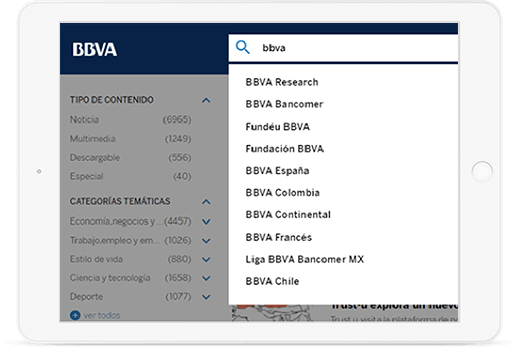 Get answers on any subject, discover new relations and navigate meaningful results
GNOSS Knowledge Graph technology allows you access to precise information. For example, query a person and understand their relationships with other people, organisations, places, events or any subject matter. Germane answers and new relations expedite learning and the acquisition of new information.
The Knowledge Graph is a searchable tool that makes it possible for people to quickly perform in-depth research and have basic understanding on any subject.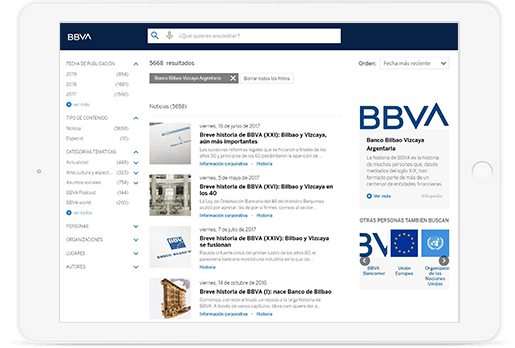 A service that works on any device
The user can access information from the BBVA Ecosystem Knowledge Graph from their computer, tablet or smartphone. This system works independently of the device used for searches.