Museo Lázaro Galdiano
The Lázaro Galdiano Collection's Semantic search engine
The Museo Lázaro Galdiano wanted to access a new audience in a digital environment through the increased recognition and appreciation of its works with a view to educational applications. With this goal in mind, it harnessed the benefits of the GNOSS platform and semantic technology to semantically structure and represent the foundation's collection of art. The project was carried out according to the principles of Linked Open Data. View the project.
The Museo Lázaro Galdiano, located in Madrid (Spain), opened its doors in 1951. It is the caretaker of 12,600 pieces collected by curator José Lázaro Galdiano. Upon his death in 1947, he bequeathed his legacy to the Spanish state, together with his residence in Madrid, the headquarters of his publication, La España Moderna, and a library containing 20,000 volumes.
A catalogue of semantically represented artworks
The Fundación Lázaro Galdiano directs the Museum and manages its more than 6,000 pieces of art by more than 800 artists. Incorporating semantic technology made it possible to expand and improve exhibitions from the catalogue within a digital space and to incorporate faceted searches, the generation of cultural and educational contexts centred on the queried works, and an artwork recommendation system. This catalogue is a collection of collections encompassing drawings and paintings, as well as fine metalwork including silverwork, jewellery, medals, and much more.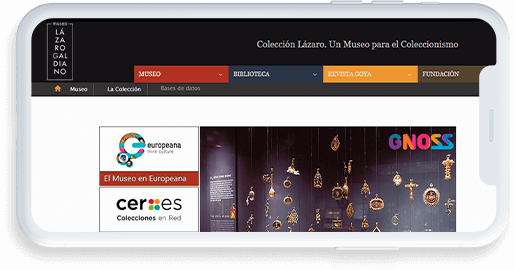 A more accessible collection
The inclusion of a faceted search engine means that the public will be able to embark upon their own research on works published, allowing them to find exactly the art and artists they want by era, style, school, technique, and other attributes, because the engine always displays possible results.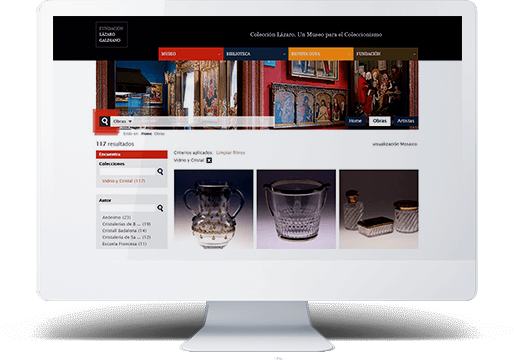 Link between culture and education
Once they have located a work or artist, the user is presented with relevant information about related artists or works as additional context. This system also connects the user to the educational content of other collections, as is the case with the Didactalia.net catalogue of educational resources.